Last week Thursday, Cider Creek Hard Cider participated in Brewbound Session's Start-Up Brewery Challenge in Boston, MA. Nine brewers competed to win a trip to Portland, OR to brew with Brady Walen and Jack Beiting at Widmer Brothers Brewing. Breweries in the challenge ranged from very small start-ups, like Cider Creek, to publicly listed companies. Cider Creek was the only cidery in the competition.
The judges were:
Here is Cider Creek's Head Brewer, presenting to the judges at Brewbound Session Boston.
While we didn't win the trip to Portland, we did win 2nd place by popular vote. Not too shabby for a cider company competing in a beer contest. A big thank you to judge Kate Baker who said, "I think overall it's outstanding. It's one of the best ciders I've had. Definitely top five." Kate also supported Cider Creek by placing an order with us. Craft Beer Cellar now sells Cider Creek Hard Cider. Check out the tweet she posted on June 4th!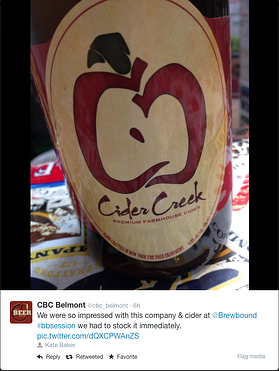 Kate's support isn't the only support Cider Creek received because of Brewbound. The Boston Globe also covered us twice. One article by Chris Reidy and another by Gary Dzen.
Thanks also to our friends Adam and Mike at Brewbound. Now, guys, let's get a cider challenge set up for next year!