---
DISTRIBUTOR TO SELL CIDER CREEK HARD CIDER IN UPSTATE YORK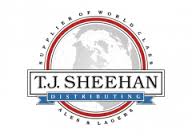 I mentioned we had some exciting announcements to share this week, well today marks the third big piece of news that we are releasing. We are trilled to announce that starting today we will be working with TJ Sheehan to represent our brand in the counties of; Broome, Cayuga, Chemung, Cortland, Genesee, Jefferson, Lewis, Livingston, Monroe, Onondaga, Ontario, Orleans, Oswego, Schuyler, Seneca, St. Lawrence, Steuben, Tioga, Tompkins, Wayne, Wyoming and Yates, New York.
What does this mean? Well it means you can pretty much find Cider Creek Hard Cider anywhere in the state of New York (don't worry Albany, we are coming for you.)
This is really great news for our company because for awhile we were mostly sold and distributed throughout Massachusetts. Now though, New York, the place where we grew up, call home, and produce our craft hard cider, has the product widely available across the state.
So keep your eyes peeled for us in Rochester, Syracuse, Corning, Ithaca, Elmira, Dansville, Hornell, Horseheads and everywhere in between, and, if for some reason you're somewhere where you want to enjoy a delicious, craft hard cider, but they don't sell it, click on the button below to tell us where it is and we will be sure to visit the location with a smile (and delicious Cider Creek Hard Cider.)